Articles
Fortune Shines Over Cochin Real Estate Sector!
Source: Jayaraj Builders, Friday, January 03 2014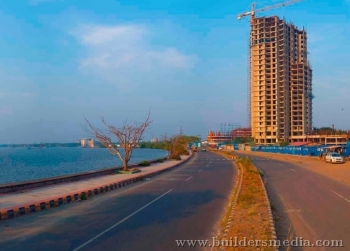 It's no more a news that Cochin is one among the most visited tourist destinations in the country; but how about thinking of it as one of the hottest and the most happening real estate destinations, here in India! The development phase that Cochin is experiencing these days, has well tagged the city among the most prospective real estate spots as well. Yes, today with the leading MNCs and other corporate giants getting lured by the enviable infrastructure facilities in the city, the rising building structures are no more an extravaganza; they have rather become a necessity to house these industrial or business centers and to accommodate the expatriating employee crowd. Thanks to the changing lifestyle the city is experiencing, which has intensified the real estate scenario!
Unlike the past, these days the earning standards are placed way above the average and with that neat bulk going to their savings, people are no more ready to compromise on their living standards. Yes, be it individuals or households, today everyone seeks for the best; and this is exactly where the real estate developers find their profit! Understanding the basic human instinct, these developers in the promotion front take to tag their products with the titles that are unbelievably attractive; budget-friendly, luxury and quality living! It is in the sprawling villas and luxury apartments, which the crowd of the day calls their home. With more and more opting for living in apartments, this has well become a trend in the city.
With all these and more supporting factors that set the entry if IT Giants to Cochin, the real estate sector is truly flying high. Yes, Cochin is today emerging to be the most sought-after IT hub in the country and this beckons a rise in the demand for these luxurious housing solutions. Now what the city is experiencing is the reverse of brain drain; with the increased career opportunities that Cochin offers, one can rather name it a job seekers' bliss! And the only way to house this expatriate employee crowd is these apartments that speak big about their facilities and affordability. Also, what was unexpected was the middle-income groups too opting for living in apartments; what more can the real estate sector ask for! Now, this cements the fact that Cochin apartments can well fit into anyone's pocket.
Cochin has already lived up to its dream of becoming one among the busiest cities in every sense, which has now caught the attention of the more affluent rich to take real estate as a better alternative to divert their investments. Moreover, the return on investment that this sector promises is quite huge; no wonder why Real Estate Kochi has become a brand in itself!

Editor
Recent Articles
UPCOMING EVENTS
Empty!

No featured events available
MORE EVENTS